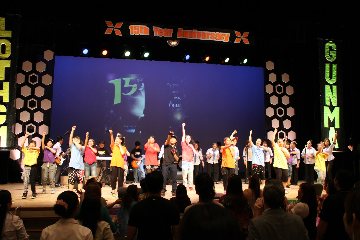 We've come this far….but the best is yet to come. So keep the faith!
Praise the Lord for the successful 15th year anniversary celebration of our church,
Lord of the Harvest Global Ministries (Gunma Family). It was indeed a wonderful outcome of careful planning, coordination as well as the organized and smooth implementation of the celebration program. I believed that this happened because of God`s inspiration, wisdom and anointing as well as the devotion, commitment and unity of both Gunma church leaders and members. The various support and prayers from leaders and members from the other chapters of the church, the financial and material assistance of some precious sponsors, the entertainment and powerful testimony of Sis. Kuh Ledesma and the involvement of her daughter Isabela during the program have undeniably contributed to the success.
I am sure that those who attended (either executing a part of the program, as a sponsor or mere audience) were blessed. For me, the area that impacted me most is the theme particularly the part "the best is yet to come, so keep the faith".
Although God has blessed our church with transformed lives, increase in membership, territorial coverage, material/financial Assets, etc., it is anticipated that greater things are yet to come. As an individual member of the church, I am convinced in my heart that the best in my life (my being, my spiritual life, family, relationship with other people, health, finance, etc.) are yet to come also.
God is almighty, gracious and His love for me never changing. For as long as I keep on trusting and humbling myself before Him, believing and obeying His words, there is no doubt that the day will come when I finally enjoy (to the maximum) the benefits that God has promised me, even while on earth. Glory to God!
By: Sis. Jenny Evasco